>> Events/ Workshops
CANDLELIT YOGA with JOHANNA & DARREN
– A relaxing & joyful yoga evening in the spirit of Christmas
SUN 13th DEC 2015 @ 6.30-8pm  
( After words there is yogi tea & ginger bread cookies to enjoy for everyone )
St, Marks CHURCH HALL
St MARKS HILL
SURBITON KT6 4LS
FEE: £10
EVERYONE WELCOME  Beginner- Intermediate
– Great opportunity to introduce yoga to partners, family & friends… 
( Got a mats to lend, please let me know if you need one)
THE CLASS includes:
A joyful slow vinyasa flow to enter the Christmas period with smiles, calm and relaxation.
1hr flow with 30 min yoga nidra (yogic sleep) at the end. Mixed level.
Hot Herbal Tea and cookies to enjoy afterwords.
BRING  a mat and blanket for yoga nidra.
Please book your slot asap to avoid disappointment.
Booking:info@johannalovisa.com or text 07807 055858
Previous Workshops: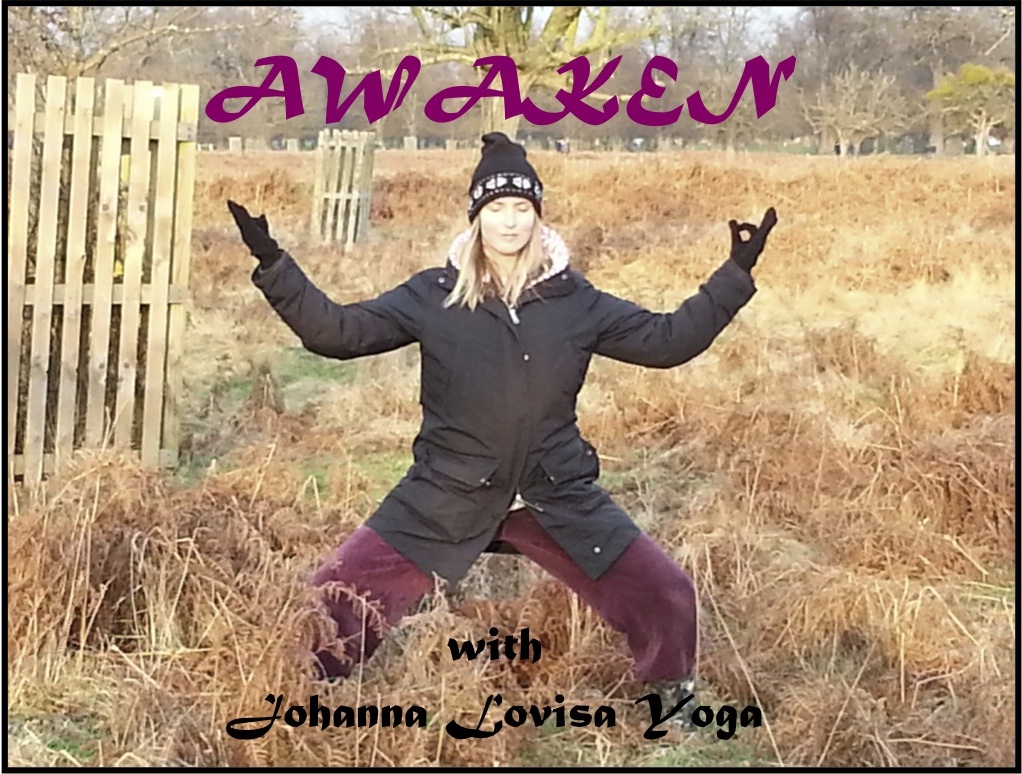 AWAKEN 18th January 2014  3.00-5.30pm
A heart warming New Year Yoga happening to activate your body, intention and true potential for 2014!
Join Johanna for a warming and joyful workshop in January 2014. This is a moment to recharge and reinstate your energy and self for the year ahead. Together we'll smile, open and awaken!!
We will slowly build up heat to get back in to the mindful and delicious flow where core work, standing postures and juicy twits takes place to reset, strengthening and detox your body after the festive season.  Following this, we prepare to open the shoulders and heart to move in to deeper awakening backbends…
Johanna will round off the practise with a seated calming flow and YOGA NIDRA (Yogic sleep) to set your awakened intention for 2014!!
Date & Time: 18th January 2014  3.00-5.30pm
Venue: IsoBarre, 29a High Street, Thames Ditton, KT7 OSD
Fee: £20 – Early Bird until 31 Dec, £25 there after.
Please bring: Mat, Blanket, Warm Socks and Jumper, Props if you have any.
Booking & Info: Johanna 07807 05858 or info@johannalovisa.com

 "PAUSE"
–  A total relaxing yoga experience.
Friday 19th April @ 7.45pm-9.45pm
After a week of hard work and demands, this 2hr session is the perfect way to relax before your weekend!
A playful introduction of laughter and movement will lead you into a safe place of stillness and letting go… We will focus on restorative postures with supports, which helps us to soften into the stretches. Some postures will be he held over 5 -10 min,  which helps relieve the stress we accumulate in daily life, this also helps during fatigue, illness and emotional times. We will make sure that the spine will move in all directions which will also help activate the internal organs.
This is a perfect way to regain your energy and restore for the weekend!!
You will receive hand outs for postures to do at home.
Suitable for all levels-complete beginners too.
Day/Time: FRIDAY 19 APRIL 2013, 7.45pm-9.45pm ( Doors open from 7.30pm)
Venue: Surbiton Methodist Church Hall, 39 Ewell Road, Surbiton, KT6 6AF
FEE: £20  Students: £15
Please bring: Yogamat, 2 Blankets and/ or Bath Towels, Props if you have any: Bolster or Cushions, Belts, Blocks, Water bottle ( Please speak to Johanna before hand)
Wear: Comfortable loose warm clothing, Jumper and warm socks
Parking: Free Parking around church
For booking Please email Johanna info@johannalovisa.com
REVIVE-

 26 JAN 2013
A yoga workshop to re-energise, detox and fuel your new year with playfulness and grounding!
Join Johanna for a fun and playful workshop where you will refresh and nourish your body and mind.  With your Intention (sankalpa) for the year ahead, together we will focus our energy in the right direction.
Pranayama (Breathing) will re-instate the connection with the earth and ourselves.
We will slowly warm up for the flowing sequence to come… where the focus is on alignment, so that our energy can flow freely during our standing poses. During our balances we are reminded not to take ourselves to seriously and approach things with a smile!
After the festive season we will include twisting to detox our body and to return to our powerful centre, we will awaken our spine with backbends and inversions.
To conclude the workshop we will finish with a long nourishing deep relaxation, bringing mindfulness to our intention.
Move from winter hibernation, REVIVE, rejuvenate and spring into 2013!!
Day/Time: Saturday 26 January 2013, 4.30pm-7pm
Venue: Surbiton Methodist Church Hall, 39 Ewell Road, Surbiton, KT6 6AF
FEE: £20 – Early Bird until 31 Dec, £25 there after.
Please bring: YOGA MAT, Blanket, Warm Socks and Jumper, Props if you have any, Water bottle
Parking: Free Parking around church
For booking Please email Johanna info@johannalovisa.com